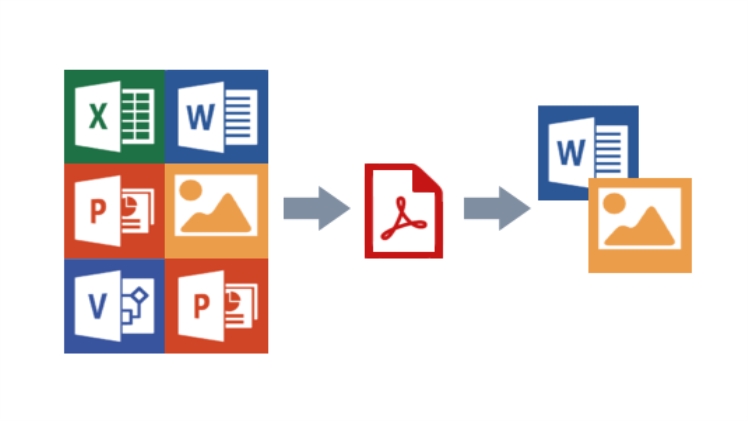 We all have one file on our PCs that is simply a hard nut to crack. You want to open it badly, but it is not supported by your device. The feeling sucks and may be detrimental to your productivity. Gone are the days when you have to worry about a file being compatible with your device. Now, you can easily convert your files into the desired and compatible formats.
In this article, we will show you some of the best file converters (both free and paid) to help you convert those files. So, let us set the ball rolling!
1.  PDFBear
If you are looking for a platform that guarantees the safety of your files and of course, easy to use for both PC and smartphone, then PDFBear is your first stop.
Pdfbear offers a wide range of formats and conversions for up to 300 supported files. You can convert PDF to PDFA seamlessly in just a few clicks. You can use this converter on almost all types of browsers and get you to file converted in less than a few minutes.
All you need to do to get started is select the file you want to convert, allow the file to upload and scan. After that, you can download the converted file, and as a plus, you have your files saved in the cloud to access them when you need them.
2.  Wondershare
Much like the name, this is a wonder worker for changing video files with ease.
Wondershare is an all-in-one video converter that works on Windows 10, 8, 7, XP, etc. This may be a little disappointing for mobile users.
Wondershare allows you to convert up to 1000 formats, trim your videos, add subtitles, record YouTube videos, and more.
3.  PDF Candy
Another impressive file converter is PDF candy. It is an all-in-one pdf manager and with only a few clicks, you can get your files converted in minutes.
One downside about PDF candy is the speed; when large files are uploaded to convert, it takes longer.
However, we love the advanced and easy-to-navigate interface that makes it easy to use.
4.  AnyConv
It is a platform that is 100% free and easy to use. AnyConv allows you to convert up to 300 files from PDFs, Docx, Images, Audios, etc.
The only limitation to AnyConv is the limited capacity. Besides the fact that your files are safe, it can only convert 50MB files at a go.
5.  Xnconvert
Here is another big name when it comes to converting files. If you haven't heard of them, that's because they specialize in converting images.
It is a bit advanced, and it may take a while before you get the hang of it. However, the features that it comes with trump the lapses it has.
One feature of Xnconvert is the ability to convert your files in bulk. So, all you need to do is select the file or create one and then upload and wait for the magic to happen.
6.  ImgBurn
Here is another file converter that helps you strictly with your image conversions. ImgBurn is a free disc image converter that supports numerous file types. Some examples of the supported formats on ImgBurn are IMG, ISO, BIN, MINISO, etc.
7.  Convertio
Covertio is another example of an online file converter that supports over 200 files on its platform. So, you can convert your files with ease anytime.
Get your file converted, drag and drop the file, and in a minute or two, you can download the format of your choosing.
8.  Zamzar
Perhaps one of the biggest names in the file conversion industry is Zamzar.  This file converter offers a variety of file options to convert.
Since 2006, it has successfully carved a name for itself by ensuring the safety of the files of users and making them easy to use.
9.  Convertfiles
Okay, if you want to get those files converted quickly, then Convertfiles is the online file converter for you. In a few minutes, you can upload the file and convert it. Then, select the format (the new file) and download it to your desktop or mobile.
It comes with over 200 + file options that will cater to almost any file you choose to upload. Some of the popular files you can convert are images, drawings, presentations, etc.
10.              Filezigzag
The last on our list is the file zigzag online file converter. This converter can be used when you install the extension on chrome. So, you can have your files converted as they land in your inbox.
All files are deleted after 24hours so you can be assured of the safety of your files.
Conclusion
While working online, we would occasionally need to transfer files from one platform to the other. This means we might have to convert those files for easy access. No matter the file type, you can always find a way to get it converted using the right software. With the platforms we just discussed, you can be rest assured to get your online files converted in just a few minutes.
Hi, let's kindly avoid the following next time:
Single-sentence paragraphs
Placing colons after each item in the listicle
Putting spaces in between PDFBear. It is one word.
Read More About: besthdmovies